Lakewood Lakes
Lakewood is home to two beautiful lakes, covering an area of roughly 365 acres. There is one beach (on Lake Drive) and there are multiple pleasure docks located around the lake for resident use. Lakewood has two pontoon boats available for rent during the summer.
Fishing
Fishing by members will be allowed on all lakes without a Missouri Fishing License, however, they must have their LPOA I.D. on them and follow the rules of the Missouri Department of Conservation regarding practices, limits, minimum sizes and procedures. Also, no trot line or bank lines are allowed.
After consulting with the Missouri Department of Conservation and our observations of the size and quality of our fish population, we have decided on the following:
A Largemouth Bass between 12 inches and 15 inches should be returned unharmed to the lake
Remove all Largemouth Bass under 12 inches and over 15 inches to decrease the competition for food
Harvest Bluegill that are 6 inches and larger
Harvest Crappies that are 9 inches and larger
Harvest all White Bass regardless of size
Harvest Walleye that are 22 inches and larger
Be careful in handling Walleye; they have sharp teeth. Also, handle the ones under 22 inches as little as possible, returning them to the lake
Harvest Channel Catfish that are 16 inches and larger
It is our sincere hope that the fishing in our lakes will be much improved if everyone follows these guidelines.
As an Angler, you have an important responsibility. It's much more than obeying fishing laws. Good Anglers also respect others, and your actions will allow many other people to enjoy fishing in our lake in the future.
An Ethical Angler:
Respects other anglers' rights
Respects the rights of others who use the resource
Respects the rights of property owners
Keeps only the fish he/she wants
Never wastes fish
Releases unwanted fish carefully land unharmed
Never litters or pollutes the waters
Knows and follow angling and boating regulations
Continually seeks new knowledge and skills
Shares his/her knowledge with others
Doesn't release live bait or non-native fish into waters
Promotes the sport of fishing
Lake Use Committee
The Lake Use Committee is concerned with all usage of the lakes and ponds in Lakewood. This shall include boating, sailing, fishing and all other lake activities and uses, and will be responsible for the following:
Fish Habitat
Fish Restocking Program
Boat Slips
Boat Racks
Boat Docks
Pleasure Docks
Wildlife Abatement
Water Quality
Fishing Derbies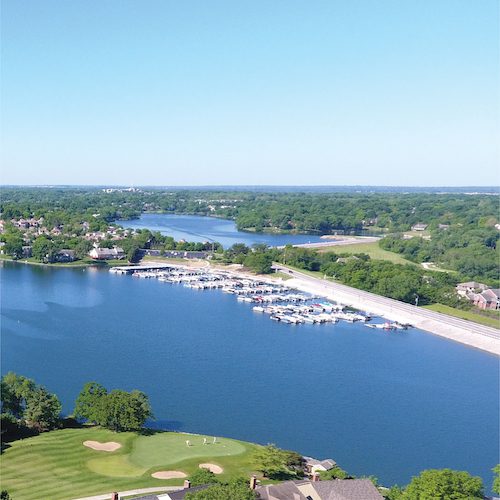 Zebra Mussels Awareness
In order to prevent the spread of Zebra Mussels, Lakewood has been very proactive in its efforts. This includes gates at both of our boat ramps and the adoption of procedures for inspecting watercrafts entering the lakes.
Boating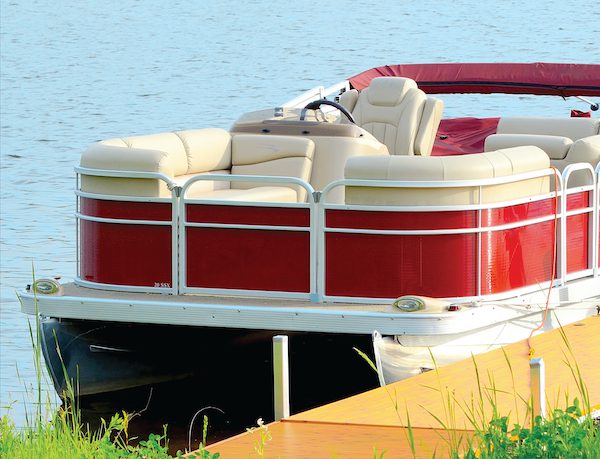 Pontoon Boat Rentals
Pontoon boats are available for 2-hour blocks on weekdays and 4-hour blocks on weekends and holidays. All-day rentals are available on weekdays only (excluding holidays). The boats can only be rented one month in advance at the earliest. To clarify, an individual wanting to rent a boat on the 15th of the month (ex. June 15th), can reserve a boat no sooner than the 15th of the prior month, regardless of the number of days in the month.
$250 damage deposit (charged to your account)
Weekdays (Monday – Thursday) $27.50/hour
Weekends (Friday – Sunday) $48.50/hour
Holidays – $60.00/hour
All-day retails (8:00 AM – 10:00 PM) – only available Monday – Thursday $188.00
Lakewood Beach
The Beach is located behind the Aquatics Center (off Lake Drive) and includes a roped area for swimming and parking area for boats.
During operating hours, you can park your boat and visit the snack bar and pool.
Marinas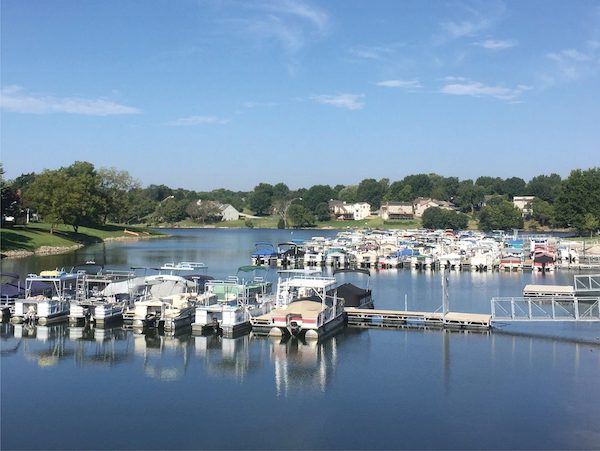 Lakewood has two unmanned marinas. East Lake Marina is located at Lakewood Boulevard and Dick Howser Drive. West Lake Marina is located at Beechwood and Gregory. Each marina has a boat ramp. These ramps are gated and available for use by Lakewood members in good standing.
Please call Community Services at (816) 373-1500 at least 20 minutes before wanting to launch or remove your boat from the lake. Your watercraft and trailer must have a current Lakewood sticker and be clean and dry for inspection by staff prior to launch.